Risk Averse Technology Company
RATC LLC, formed by blockchain pioneers, is focused on producing novel businesses in the AI & Web3 space.
2023
Coming Soon
R.A.T.C LLC is excited about the opportunities for building innovative and fun web3 projects in 2023.
Just a few of the forthcoming projects you can expect to see this year include a project that combines public domain, AI and web3, more custom AI bots and projects around other public domain treasures like Sherlock Holmes. Stay tuned!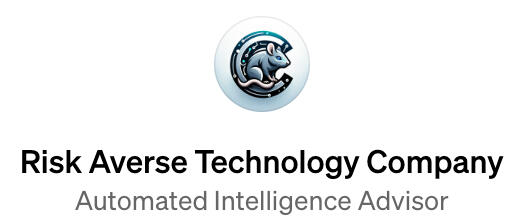 🎉 Introducing Meme Creator: Your Ultimate ChatGPT-powered Meme Generator! 🎉Unleash your inner memelord with Meme Creator, the game-changing plugin that combines the power of ChatGPT and ImgFlip API to create hilarious memes on demand using natural language. Just type in your idea or describe the meme you want, and Meme Creator will work its magic to generate the perfect meme in seconds! Gone are the days of sifting through templates or wrestling with design tools – our plugin makes meme creation a breeze, allowing you to share your wit and humor effortlessly. Stand out on social media, entertain your friends, or just have a good laugh with Meme Creator – the ultimate tool to keep your meme game strong and relevant! Try it today and let the meme revolution begin! 🚀
Perfect Prompts
🌟 Introducing the Prompt App: Unleash Your Creativity with ChatGPT! 🌟Are you struggling to find the right words or ideas to spark engaging conversations with ChatGPT? Say goodbye to writer's block and unleash your creative potential with the revolutionary Prompt App!✍️ Get Inspired with Endless Possibilities ✍️
The Prompt App is your ultimate idea generator, designed to create unique, thought-provoking prompts for any situation. Whether you're looking for inspiration for your next blog post, a conversation starter for your social media, or just some friendly banter with ChatGPT, our app has got you covered!🚀 AI-Powered Smart Suggestions 🚀
With the cutting-edge GPT-4 technology, the Prompt App generates smart, relevant, and out-of-the-box prompts tailored to your needs. Our app learns from your input, providing even better suggestions the more you use it!🎨 Customize Your Experience 🎨
Easily select from a wide range of categories and themes, or input your own keywords to generate prompts that match your interests. The Prompt App adapts to your preferences, ensuring a personalized experience every time.📲 Anytime, Anywhere Access 📲
The Prompt App is available on all devices, making it easy to access and use whenever and wherever inspiration strikes. Never miss an opportunity to engage with ChatGPT or explore new ideas on-the-go.💡 Level Up Your ChatGPT Experience 💡
Unlock the full potential of ChatGPT with the Prompt App – your ultimate companion for endless creativity and engaging conversations. Don't miss out on this game-changing tool!🎁 Try the Prompt App today and elevate your ChatGPT experience to new heights!
Now We Are Six
Now We Are Six is a collection of 35 poems and entered the US Public Domain in 2023. One of the first 'book and NFT Companion' collections on the blockchain, Now We Were Six honors the birthday of its author A.A. Milne. January 18th is also referred to as Winnie-the-Pooh Day!
2022
The Second Vinny & Frens Book
Welcome to "A Bear and a Robot: Artificial Imagination" the exciting new book by ChatGPT with illustrations by Midjourney!
With action, adventure, and plenty of heart, "A Bear and a Robot: Artificial Imagination" is a must-read for anyone who loves technology and the limitless potential of the digital age.